Chinese New Year RTG Slots
There's something very fun and festive about the Chinese New Year that makes it into one of our favorite celebrations. That's why we thought it would be perfectly fitting to build a list of some of our favorite slot games themed after the celebration. Below is a list of our top RTG (Realtime Gaming) slots themed after the Chinese New Year. The list includes a range of slot types, but each one offers some promising features and you won't be disappointed if you give one of more of these games a try yourself.
Reviewing Cai Hong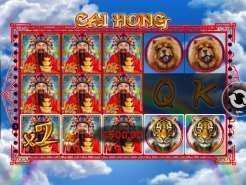 Cai Hong is an excellent slot game that we were thrilled to add to our list of recommendations when putting together this list of games themed after the Chinese New Year. The game features a good blend of special features and offers a stunning free spin bonus round, you just have to get over the way it looks. When you first look at Cai Hong you'll likely be unimpressed. It has a very generic look with somewhat bland looking symbols that won't stand out in any special way. It's set over top of a bright blue sky with a rainbow and there's a selection of animals and card symbols as well as the God of Wealth. Look past its appearance though, because there are some very nice features hidden within. When you play Cai Hong most of the prize payouts are small, even with help from the God of Wealth symbol to double your prize payouts. The God of Wealth symbol himself can help you win big and is worth 10,000 coins if you get all five on a payline. The standard symbols only pay up to 1,500 coins though, even with the God of Health 2x multiplier. The scatter symbol in this slot game is truly exceptional though. It will pay out up to 500x your total wager amount if you get five of them. Three or more also trigger the free spin bonus round, that starts you off with a 2x multiplier over 8 free spins, but gives you a chance at up to a 15x multiplier over up to 33 spins. It's this special bonus that makes the slot game worthwhile to play. Unlock a top multiplier and you can win very big, plus, getting three or more scatters during your free spins will keep the fun going for an additional 15 free spins. Cai Hong is a lot of fun with enough luck, and a worthy addition to this list.
What Stands out about Pig Winner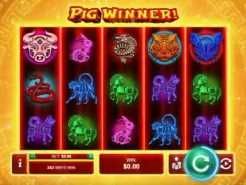 Pig Winner is the perfect example of a slot game celebrating the Chinese New Year. It's made up entirely of Chinese Zodiac symbols, so as you play you see a bunch of different brightly colored animals popping up on the screen. The game doesn't offer exceptional prize payouts, but it gives you many different ways to win as you play. It's set up in a 243-ways-to-way format and doesn't have any official paylines. Wagering works like there are 30 fixed paylines though, so your minimum wager amount is $0.30 and your maximum is $150.00 per spin. Now let's get to the good stuff about this slot game. The pig symbol is the wild as is expected, and it subs for everything other than the scatter. The pig appears on reals 2 and 4 during standard rounds, and doubles any prize values it helps to create. The scatter is the true star of the show though, and awards a prize payout of up to 200x your total wager amount if you can get five of them on a spin. The pay tables are pretty uninspiring other than the scatter symbol, but things get a bit better when you head to the free spin round. Get three or more scatters and you unlock 8 free games where there are additional scatters and wilds on all the reels during your spins. Pig wilds become 3x multipliers during te free spin round, and it's possible to re-trigger 8 additional free spins two more times for up to 24 free spins. Pig Winner isn't the highest paying slot, but it's a lot of fun and still worth trying out.
Why God of Wealth is One of Our Favorites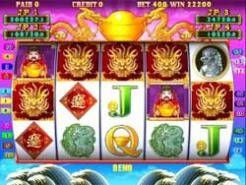 Even though it looks pretty standard on the surface, there are some pretty nice features offered by God of Wealth that will make you glad to have tested it at least once. The slot game gives you access to all sorts of nice prize payouts, and it looks nice as well. We like the nature-focused design of God of Wealth. The game plays over 25 paylines and wagering options between $0.01 and $125.00 per spin are available. Overall, there is a lot of flexibility to work with while playing this slot game. There are also some nice payouts to be had by playing through the rounds. In God of Wealth you'll enjoy a chance at some nice fixed jackpot payouts. The God of Wealth symbol serves as a wild and will double prize payouts, making it possible to win as much as 10,000 coins from the Dragon symbol or 5,000 from the Tiger symbol. The scatter will pay out up to 200x your total wager amount, or up to $25,000 if you're wagering the maximum amount while playing. Get three or more scatters and you trigger a free spin round with between 10 and 30 free spins. During your time in the free spin round the wild transforms every other animal symbol into wilds as well when it shows up, creating a chance for wild combination prize payouts. There is also a pretty valuable randomly triggered progressive jackpot in God of Wealth, that makes it possible to win even additional prize payouts. Between all these different features there are a lot of ways to win big from God of Wealth, making it even more enjoyable to play around with. The three slot games listed above is just the tip of the iceberg when it comes to quality slots offered by RTG themed after the Chinese New Year. Hopefully our reviews help you pick some quality gambling options to play around with, but we encourage you to look through the full roster of RTG slots as well to see if there is something we missed that you'll enjoy even more.