Christmas RTG Slots
While most people see Christmas time as the perfect opportunity to spend time with friends and family members, it's also a fun time to be a member of an online casino. Some of the very best online slot games are themed for the Christmas season, which means you have a lot to look forward to when December comes around. Realtime Gaming is one of the more popular software developers that offers Christmas games, and they have a pretty big selection to choose from. Below are outlines of some of our top Christmas games and what you can expect from playing them.
Swindle All the Way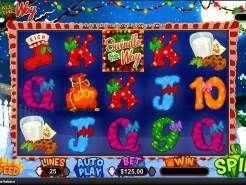 Swindle all the Way is a fun and exciting Christmas slot game from RTG with a fun twist. While the slot is about Christmas, it's actually about a team of robbers that are going around and stealing presents. The game backdrop is a brightly lit night with a full moon in the sky. There's animated snow falling in the backdrop and it really feels like Christmas night as you're playing. The game offers some very exciting bonuses such as random progressive jackpots and a very powerful free spin bonus round as well. Getting three or more scatter symbols unlocks the powerful free spin bonus round where you are tasked with finding the robbers to unlock as many free spins as you can. Find enough robbers and you could unlock between 3 and 60 free games with a powerful prize multiplier worth between 1x and 33x. Swindle All the Way is a pretty flexible slot game as well, offering a massive range of wagering options from a low of just $0.01 to a high of $250 per spin. Scatter payouts up to 250x your total wager amount are possible and there are many other ways to win big while playing this game. it's an exciting slot thanks to all the features, and that's how it made our list of top Christmas slot games for every holiday season.
Naughty or Nice Spring Break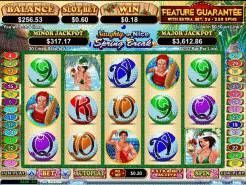 What says Christmas spirit more than a pair of beautiful women enjoying themselves in a tropical paradise? In Naughty or Nice: Spring Break , Santa Clause couldn't agree with that sentiment any more. The slot is all about having a good time in a beautiful island environment, but it still manages to focus the theme around Christmas, making it a nice warming holiday game to play. The slot features a good mix of wagering options, some solid progressive jackpots and good payouts all around. It's the type of slot that you'll fall in love with, and that's even before you get to play around with all the different special features and bonuses. While playing the game the Naughty and Nice girls both count as wild symbols and show up on the reels frequently. The game logo is the scatter and can payout as much as 200x your total wager amount for a massive prize payout. There are two free spin bonus rounds that reward you with multipliers, and random perks that increase your odds of unlocking some seriously good prize payouts as you play. The free spin bonus changes depending on if you choose the Naughty or Nice girl before it starts and either way you'll have a good time with this slot. Besides for the eye candy that the girls provide, there are enough features to make us want to come back to this slot again and again.
The Nice List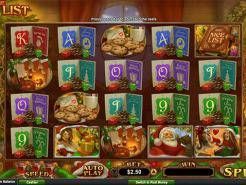 The Nice List is the last slot game that we want to talk about for Christmas-themed games we enjoy. This slot has a more classic look to it than the other two mentions above. There are symbols with cookies and milk, different Christmas Cards, Santa Clause, stocking hung over a cheerful chimney and of course some beautiful helpers to aid Santa during the holidays. The slot has a classic look to it, but it offers an impressive set of features that will make you excited to play. The game comes with a nice feature-set including grouped wilds, a powerful scatter symbol and a lucrative bonus free game round. The grouped wilds show up frequently during the base game, giving you more chances to win prize payouts than you might expect. The scatter offers payouts up to 500x your entire wager amount, which is massive. The game also has a few different free spin bonuses, giving you multiple ways to win big. In one bonus round you'll enjoy 15 free spins with a 2x multiplier. In the other free psin round you'll get a base of 10 free spins with a chance at additional expanding wilds, multipliers and additional free spins depending on your selections. The Nice List is a powerful slot and it's enjoyable to play too. Which is why we put it so high up on our list. If Christmas is your favorite holiday, you can benefit by looking through the slot library offered by RTG. With so many quality Christmas slots to choose from there's something for everyone there.