Outer Space RTG Slots
No, we're not going to cover Star Wars themed slots in this article, (sorry!) but we are going to have a look at the many different outer space themed slot games offered by RTG, or at least a few of our favorites! Realtime Gaming is an impressive slot company with lots of variety to offer serious gamblers looking for fun. The developer is known for its quirky games and nice graphics, and it packs in some pretty cool features as well that you won't find from other software developers. That's why we're so excited to show you the following two games. Cubee is the less conventional of the two games, but both slots are very unique!
Cubee is Not Like the Others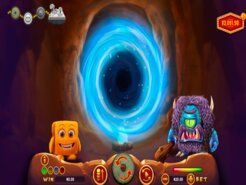 Are you sick and tired of all the standard matching style slot games out there? If you're tired of reels, and spinning and matching symbols, Cubee might be the right game for you. This slot game ditches all those mechanics in favor of something much more unique. Every round you battle a group of aliens. Defeat enough of them and you'll win a good solid prize payout. To defeat enemies you need to raise your power level by collecting orbs. You can defeat all the green enemies without a single orb. Find an orb and you can defeat yellow enemies as well. A second orb allows you to beat the tough blue enemies, and a third orb will let you take out all the red enemies and unlock the biggest prize payouts. In Cubee your main goal is to travel through time and make it through all three stages to reach the special bonus round. Along the way you will have to defeat the same main enemy three times, and gather cannons and bow and arrow symbols to save up free spins and multipliers for the bonus stage. The slot game is a bit complicated to understand at first, but with time you will come to love Cubee and all it has to offer. Just make sure you don't switch between different wager amounts in the middle of playing the slot, because changing wager amount starts you over from the beginning.
Nova 7's Offers Some Impressive Wins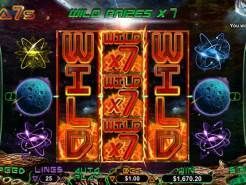 Nova 7's is an exciting online slot game that takes you out into outer space to try and win some cash. The game has a total of 25 paylines and a good mix of wagering options from the low of $0.01 and the high of $125.00 per spin. There ae all sorts of plants, stars and asteroids in this slot game that give it a very bright look. Nova 7's is a unique slot not because of its payouts, but because of its wilds. The wilds can expand and spread to other reels, creating chances for some very exciting prize payouts. Every time that you play Nova 7's you'll have a real chance to trigger some incredible prize opportunities. The wild red 7 symbols show up on reels 2 and 4, and they can spread to cover their respective reels. They can also spread out onto one additional reel each where they can spread to cover those as well. Finally, the wilds can transform into 7x wilds awarding much larger payouts. The slot packs in a free spin bonus round that uses each of the different wild transformations to give you a different bonus game experience. When you get three scatter symbols to trigger the round you will choose one of the scatters to uncover the bonus you'll get during the round. That bonus sticks around for every spin, only serving to increase your wins while playing the bonus round. Nova 7's is an innovative space slot game and a lot of fun to play around with. Both of these slots are a bit deceptive, and that's why we decided to review and overview them together. The games pack a serious punch in terms of features, but they're even more exciting because of how unique they are. If you want a slot game that's different, give either of these space themed games a try. You'll find something you love about both, and you should be able to enjoy your online gambling experience even more thanks to these games.