Magic RTG Slots
RTG or Realtime Gaming is a big name in the gambling industry thanks to all the high quality games the developer has produced. There are so many different games in fact, that it can be overwhelming trying to decide which of the games you actually want to play. That's why we built a list around some of our favorite games and this list focuses specifically on magic themed slots. We absolutely love magic, especially in slot games, and these different games all offer some of the best features that you can expect from a slot game from today. Read through our RTG magic slot reviews below and you can learn about quality slots and hopefully find one that appeals to you specifically.
We Love Panda Magic for its Prize Winning Combinations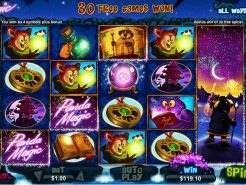 Panda Magic is a fun online slot game about an adorable panda wizard. The slot features all sorts of different symbols including amulets, magical potions, animals casting spells, owls reading, candles and spell books and more. Together all these symbols help to set the mood and give this slot a nice look overall. The slot is set over 50 fixed paylines, so your wagering limits are $0.50 to $250.00 per spin as you play the game. Prize payouts are quite modest in Panda Magic, with the highest payout from fixed symbols being 1,000 coins for five wilds. There are many different decent payouts though, and you can get up to 250x your entire wager amount by getting five scatter symbols. Not only that, but the wild symbol will actually count as one scatter for each reel it appears on. The wild has a chance of spreading across an entire reel, which leads to prize winning combinations often. Panda Magic also has a free spin bonus round that can trigger when you get three or more scatter symbols. Start the round up and you'll enjoy 20 to 30 free spins with double prize payouts, a chance at additional wilds and plenty of good paying prize combinations. Panda Magic is a lot of fun and a slot game we like to play when we're looking for frequent prize payouts.
Voodoo Magic Is Scary Fun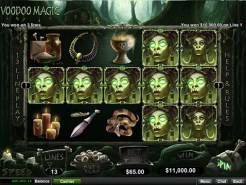 Voodoo Magic is an online slot game that takes a look at the darker side of magic. The slot is set in a deep dark forest, and focuses on witch doctors, ancient spells and deep dark and even evil magic. The slot is a fascinating one and we love the theme, the look and the feel of the game most of all. The slot is set over a very fitting 13 paylines and makes it possible wager a low of $0.01 and a high of $130.00 per spin. There are good solid wild, scatter and bonus round payouts available in this slot game along with a nice look and theme. Once you get past the beautifully dark and dreary theme of Voodoo Magic, it's time to dig into the actual features that make this game worth playing. There is a wild priestess that results in plenty of wins and is worth up to 2,000 coins herself. There is also a Voodoo Doll scatter that will pay out up to 100x your wager amount and also trigger the bonus free spin round. The free spin round is really where exciting things begin to happen for Voodoo Magic though. In this round you get up to 25 free spins and there is a chance for a Magic Multiplier. The Magic Multiplier starts at 1x and increases once for every free spin, giving you a chance at up to a 25x multiplier if you are lucky enough. Voodoo Magic is one of our favorite options for magic games and is a lot of fun in a spooky sort of way.
Wild Wizards Keeps things Varied and Exciting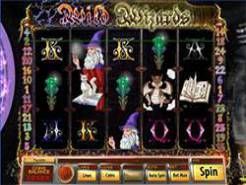 Wild Wizards is the final entry on our list of entertaining magic-themed slot games from Realtime Gaming, but it's by no means the worst entry. This slot has a lot going for it, starting with a nice magical fairytale storybook sort of feel. There are spell books, potions, wise owls, cliff-side castle towers, wizard hats and more that make up the slot. The game is set on 25 paylines and you have a good mix of wager limits available from the low of $0.25 to the high of $125.00 per spin. Once you have those values set in place you can start enjoying the special features that make this slot game special and worth playing. This slot game features a wild wizard symbol that will expand to cover the full reel every single time he shows up. It also comes with a scattered spell book that pays up to 50x your wager amount. These standard symbols are nothing compared to the five different bonus games that can be triggered though. Get a spell book on the first payline and a wizard in the last position and trigger one of five special bonus rounds. These bonus features are all named after different wizard spells and abilities, and they come with all sorts of exciting features. They award different amounts of free spins and offer special symbols, full reels of wilds, massive instant payout rewards and more depending on the feature that you unlock. No matter how many times you play Wild Wizards, chances are good that you'll have a new experience with the slot game to keep things fun and exciting. That's what we love about the game and why we keep coming back for more ourselves. No matter which of the different slot games appeals to you, you should be able to enjoy a quality play experience when you play these magic-themed RTG games. They're fun, they offer reasonable rewards and have enough variety that you should be able to find something appealing to you no matter what sort of player you are.