Mayan History RTG Slots
With so many different slot games available today, you can pick and choose the theme that you enjoy the most and focus in on those sorts of games time and time again. We really enjoy Mayan themed slots and other slot games about ancient civilizations. There's something about the lush landscapes, the ancient practices and all the cool symbols that makes these slot games exciting. We put together an overview of some of our absolute favorites down below for you to take a look at and hopefully fall in love with the same sort of games. Take a look at some of our options and choose the games that you like best for yourself.
Mayan Queen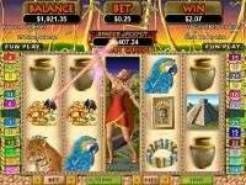 Mayan Queen is a pretty standard looking slot game but hides within in it a decent depth of features. The game features a lush backdrop with trees and a beautiful sunset sky, and some emeralds, parrots, jewelry, swords snakes and more to help set the scene. The game has 25 paylines and offers wager limits of $0.01 to $125.00 per spin depending on the settings you have in place. There is a random progressive jackpot worth thousands and several other features to look forward to as you play.

While playing this slot game you can win an impressive 30,000 coin prize payout by getting the most valuable symbol combination and using the 2x wild symbol to complete it. That's a massive prize worth as much as $150,000 with a maximum wager on the line you win on. There's also a free spin bonus round with a full stack of wilds and some decent prize-winning opportunities. Overall Mayan Queen is a pretty standard slot experience with all the features that you would expect, but no unexpected bonuses. If you're looking for a slot with a cool Mayan theme, and you don't mind more of the same, this has big enough payouts to be worth a playthrough.
Secret Symbol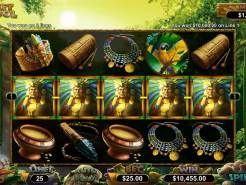 Secret Symbol is a beautiful slot game that's clearly themed after an ancient forest civilization much like the Mayans. From the moment you begin playing with this slot game you'll see idols, panthers, crowns, exotic birds, running waterfalls and all sorts of beautiful bits of scenery that help to make this slot game so alluring. It's not just the appearance that we enjoy about Secret Symbol though, it's also the features, and there are plenty of them to look forward to on this 24 payline slot.

During spins in this slot game there's always a chance that you'll bring out the powerful chief. This chief is worth up to 10,000 coins if you can get five on the same payline and he'll help you unlock plenty of additional prize payouts if not. Not only that but there's a powerful scatter symbol worth 500x your total wager amount if you can get five of them. Get three or more and you'll trigger the free spin bonus round. In this round you get 10 free games with a random multiplier that appears over the reels after each spin. You can win up to 20x a standard payout in this round or up to 200,000 coins, which is quite impressive. This slot is a lot of fun and certainly worth trying if you like ancient civilizations. There aren't many slot games made about the Ancient Mayans, but that doesn't make the slot theme a bad one. These games are absolutely entertaining, and they're beautiful to look at as well. If you're searching for a nice new theme to play around with, take a look at some of our slot reviews above an get a feel for the games and what they have to offer. With just a short playthrough you might decide you've found a new game that you love.