Halloween RTG Slots
There's something alluring about Halloween that makes people either love or hate the holiday. If, like us, you're one of the people that absolutely loves the big day, we've got a treat for you! We put together a list of some of the top slot offerings from Realtime Gaming (a leading software developer for online gambling) that's all focused around Halloween. That's right, with our review you can learn all about the top Halloween slots from RTG and whether or not they're going to offer you features that you enjoy. We absolutely love each of these games in their own unique way, and we're excited to show them off to you.
Try Voodoo Magic for a Creepy Fun Experience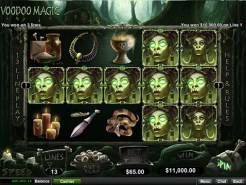 If you're after more of a traditional spooky Halloween themed slot game, there's something particularly satisfying about Voodoo Magic the online slot. This game sits you down in the middle of a dark forest and puts you face-to-face with all sorts of creepy symbols. There are voodoo dolls, crazy priestesses, skulls, shrunken heads, candles, altars, snakes and more to really set the mood. The game does a wonderful job bringing you in and making you feel as if it's Halloween, and that's what we love about it.
In terms of actual features the slot is played on 13 paylines and makes it possible to wager a low of $0.01 and a high of $130. There are wild symbols, but comparatively small payouts of a maximum of 2,000 coins per fixed jackpot win. The game really shines thanks to the free spin bonus round though. Getting three or more scatter symbols triggers the bonus round to get things started and once you're in the bonus round you have up to 25 free spins to win big. Each spin comes with a multiplier starting at 1x and climbing by 1x. That means you can get up to a 25x prize multiplier for some impressive prize payouts with Voodoo Magic. The slot is creepy, it's fun and it's rewarding in just the right way.
Bring in the Holidays with Bubble Bubble 2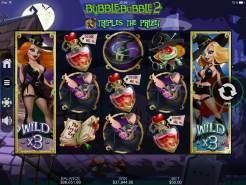 Nothing says Halloween like a pair of scantily clad witches, just kidding! (but not really). That's exactly what you get in Bubble Bubble 2, along with some pretty impressive features and a whole spooky cast of symbols such as bats, a creepy voodoo withc dool, wise old owls, rats, skulls and more to create the full Halloween picture. This slot game is played over an impressive 50 paylines, but you must wager on each one, making the minimum wager amount $0.50, more than some gamblers are willing to spend. The maximum wager amount of $500.00 per spin is an impressive one and something high rollers love.
Bubble Bubble 2 shows off two beautiful witch characters, both of which are wilds and serve as 3x multipliers. These ladies will sub in for every other symbol other than scatters, and they help create up to a 9x prize multiplier if you get both along with other paying symbols. The prize payouts are smaller in this slot, but thanks to these multiplier witches and a selection of some excellent bonus features there is still a lot to be won while playing this game. Getting three or more scatter symbols unlocks one of the three different bonus features. Each has a fun Halloween themed name, and they all offer free spins with a selection of wilds appearing on the reels with each spin. Whether you get the massive full-reel witch wilds, or a selection of ghost wilds doesn't matter, either way you have a better chance of winning some excellent prize payouts. Bubble Bubble 2 is a top-quality slot game and it's a lot of fun to play around with, Halloween or not.
Witch's Brew is a Classic Halloween Treat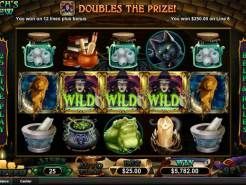 Witch's Brew is a spooky slot game that features everything you would expect to find in a dark room meant for mixing potions. There are eyeballs in jars, a mortar and pestle, candles, black cats, roots, frogs and more to look at. The slot comes complete with most features and control you would expect, including a speed control with three settings and an autoplay feature to keep the reels turning without your input. This slot also packs in a total of 25 paylines offering a huge wagering range between $0.01 and $250.00 per spin. It's a well-rounded game with plenty of features to work with.
Speaking of features, Witch's Brew has two different wild symbols for you to watch for. The witch wild is a 2x multiplier and will double any prizes it helps create. The dragon fang is a standard wild and increases your chances of winning some excellent prizes. These wilds can trigger a re-spin feature if you get three of the same one on the middle three reels. Do that and the middle reels lock in position during 10 re-spins. The scatter symbol also triggers a special feature giving you between 10 and 125 free spins with a 2x multiplier. Witch's Brew is a feature-rich slot game with plenty of special bonuses to keep you busy every time you play the game. Make the most of its many different features and you'll be excited to play the game again and again.
There are so many good Halloween slots to choose from from RTG that we had a tough time selecting our favorites. Hopefully, after looking at our list you see at least a few slots you want to play around with. These games are high quality, they're lots of fun and one of them could become your favorite new Halloween tradition. Test them out and see if any appeal to you!