Aliens RTG Slots
Realtime Gaming is one of the biggest software names in the gambling industry, and the company is well-known for producing colorful and fun themed slot games. This makes for some really entertaining gambling experiences when you play around with alien themed slot games. While searching for our favorite slots we came across several alien slots that we absolutely fell in love with. Below are some of our favorites for you to get familiar with and to play around with. Take a look at these slot games and try them out for yourself.
Cubee is an Extremely Unique Alien Slot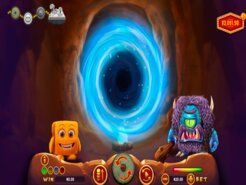 Cubee is one of our favorite new slot games because it's such a unique gambling experience. The slot takes you to a new world were you battle strange enemies using a unique point system to do the job. The slot has you travelling through time to different dimensions and trying to reach the end where you'll unlock some seriously good bonuses. You can wager between $0.01 and $5.00 per spin, but any time you change your wager amount you start the journey all over again, to take care when changing things up! Unlike standard slots, in Cubee you try to collect orbs, increase your power level and defeat enemies, there is no symbol matching to worry about. Each time you start a round you get a power level depending on how many orbs you get, and the higher your power the more difficult enemies you can defeat. Take out enough enemies and unlock impressive prizes. This slot features a free spin bonus round, but the round only triggers after you travel through the three game stages. Beat the enemy three times and unlock free spins and multipliers along the way to hopefully a big win during the bonus round. We love this slot for its unique play style that sets it apart from every other slot. Cubee offers the potential for some exciting prize wins too if you are lucky enough.
Head Straight Into Space with Nova 7s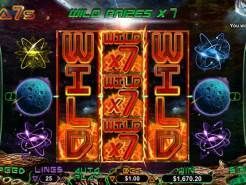 A game like Nova 7's makes it a bit easier to believe there might be aliens out in outer space. The game is set against the backdrop of space and showcases a series of brilliant stars, plants and other space debris all lined up in neat rows. It features 5 reels and 25 paylines overall, making it a pretty standard slot in that regard. Wagering is flexible and you can turn the different paylines on and off while adjusting their value to reach a high of $125.00 per spin or a low of $0.01 per spin. Set the value to an amount you are comfortable with and let the slot game go from there. The prize payouts from this slot seem tremendously low at first with the top prize being worth just 777 times your line bet, but things get very interesting when you learn how the wild works and about the free spin bonus round. The Red 7 wild is a powerful tool that can help unlock some very promising prize winning combinations. Those Red 7's only appear on reels 2 and 4 at first, but can go through transformations that bring them to additional locations. The wilds will expand to cover their entire reels sometimes. They will transform into 7x multipliers in some instances. They can also spread out to one additional reel each, giving you up to 4 reels of complete coverage. It's even possible for the wilds to spread, stretch out and get the 7x multiplier at once. The free spin bonus round uses these powerful wild mutations to give you a better chance at winning some cash. If you get the three scatters to unlock the round the slot will award you one of the wild mutations during each free spin for seriously good prize payouts. Nova 7's is a lot of fun and a really nice paying slot if you get lucky with the wilds.
Enjoy a More Traditional Experience with Outta this World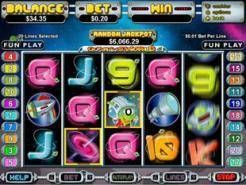 Outta This World is one of our favorite alien themed slot games. The game packs in planets, UFOs, ray guns, black holes and more to give you a very believable space environment that you can enjoy. The slot is set over 20 paylines with a decent mix of wagering options from a low of $0.01 to a high of $100.00 per spin. If you're interested in an alien themed game you'll find a lot to enjoy about this one. We were most impressed with the scatter and the wilds in this slot. The scatters can pay out up to 500x your wager amount if you find five, which is a massive win. The wilds only show on three reels, but they expand to cover the entire reel when they do show up. Get black hole symbols on the 2nd and 4th reels and you'll trigger the special bonus round. In this round you choose 5 of the 10 planets to reveal free spins and instant prize payouts. Choose carefully and avoid picking the planets with aliens. If you can make it without getting two alien picks you will unlock all your possible prizes and get free spins to enjoy. During the free spin round prizes are doubled, giving you an even better chance of winning. Between the nice features and the bright symbols Outta This World is a pretty charming slot worth a playthrough or two. If you don't find at least one alien-themed slot that appeals to you, you're not looking hard enough. Realtime gaming does an excellent job offering cool mechanics and fun bonuses and other special features to keep things interesting. It's all these little extras that make us keep coming back for more with those different slot games.