Games
One of the first features that most players are interested in when checking out a prospective casino to join is the games available. That's why it's so important that a casino has a good solid selection of games. After all, without enough games, things will become very dull very quickly for long-term gamblers. Sure there are some players that are happy to play the same handful of games each time they log onto the site, but even those players would prefer to have a big backlog of games to try out in case they ever get sick of the current options. Uptown Aces offers an excellent selection of hundreds of different casino games, including Pokies, video poker, specialty games, progressive jackpots and more. These games make the casino more appealing and draw in new players every single day.
Popular Pokies
Pokies games are what draw in most gamblers today, and for good reason. They offer such a wide range of themes, play styles and prize amounts that it's hard to overlook them. At Uptown Aces there are big name Pokies games like Cash Bandits and Achilles, but there are plenty of smaller games to pick and choose from as well. There are classic pokies games with three reels and smaller prizes, and there are massive five-reel pokies with progressive jackpots and special features to keep things very interesting. No matter what type of pokies you prefer, Uptown Aces has a bit of everything to offer.
Varied Video Poker
Video poker is an exciting blend of poker and pokies together into one virtual online game that's a lot of fun. Uptown Aces offers all the popular variations of this top online game, including Deuces Wild, Aces and Eights and Joker Poker among others. Serious video poker players can switch between variations while enjoying the games that they prefer the most as well.
5 Reel Slots
3 Reel Slots
Winning Big with Progressive Jackpots
There's nothing quite as exciting as having an opportunity to win 10's or 100's of thousands of dollars while playing a pokies game. That's what progressive jackpots bring to the table and why these pokies games are quickly becoming the most popular variety of all. Uptown Aces offers several different progressive jackpot games to choose from, including some very popular options like Cleopatra's Gold and Spirit of the Inca. These games can instantly transform players into very wealthy individuals and even change their entire lives with a single win.
Play Free Online Games: No Downloads Mean No Hassle for You
If you hate downloading software from online casinos, don't worry. Lots of online casinos now offer free online games with no downloading required. This means you can choose which games you would like to play – often on a computer or mobile device – and simply play them in your browser. With no software to worry about, it makes life easier for you whenever you choose to play a game. This is certainly true if you are a member of several online casinos. You may not want a download from each of them. While plenty of people enjoy playing games for the chance to win real prizes, others decide to play the games just for entertainment. Furthermore, other players still like to try a game free before they decide whether it is for them or not. Being able to play online games of all kinds for free is a good way to figure out which ones are ideal for you. Watch for casinos and other sites offering games as instant play versions. This is the Flash version of the game. It may also be available to download, in which case you can just access the casino lobby to find it, once the software has downloaded. However, if you want to take the easy route, there is no doubt the free online games you can play today are often the Flash ones. You could say they are the flashiest games of all!
Ronin Slots Is Here To Stay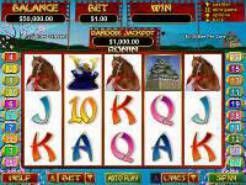 The spirit of the samurai continues to live on, thanks to Ronin Slots , a five reel wonder that is part of the Real Time Gaming wonder. Make no mistake about it, the power of the samurai is on full display in this 25 reel bonanza. Ronin is full of bonus rounds, specifically three bonus rounds. Each one of the bonus rounds are full of special free spins. In a lot of ways, Ronin is the ideal slot that keeps on giving. In fact, you can play up to 300 free spins. And in the middle of the samurai action, there is a progressive jackpot that can be won at the conclusion of any spin.


All Hail Queen Cleopatra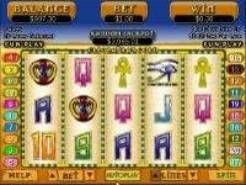 The legend and the beauty of famous, queen Cleopatra lives on with Cleopatra's Gold Slots . Discover the majesty of ancient Egypt in this five reel game with 20 pay lines packed with the enchantment and the splendor of the time fabled world of queen Cleopatra. This title is full of wild multipliers and exciting free spins. To help set you in the mood and the time of Queen Cleopatra, the icons and the game design are all in the mold of ancient Egypt.



Feel The Power Of The Dragon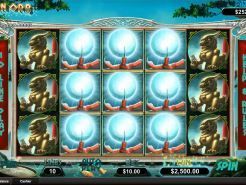 Real Time Gaming believes in the power of the dragon, and to feel the might of this mythical creature, they have developed a five reel game with 10 pay lines, known as Dragon Orb Slots . As soon as you log in, you are immediately drawn into the world of an ancient, Asian town. There is so much energy in the game, that there are energy balls swirling around. The dragon shows off its extra power through the wild re spin bonus round. Need more? How about the progressive jackpots that can be won at the end of any spin.



Plentiful Treasure Slots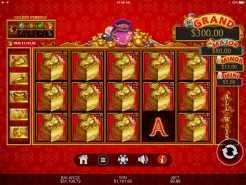 Make no mistake about it, things and wins are aplenty here with Real Time Gaming's Plentiful Treasure Slots . There are 243 pay lines in this five reel affair. Breaking away from traditional five reel games that normally follows an Oriental themed, Plentiful Treasure Slots has an Eastern themed slot filled with icons of precious jewels and rings. Plentiful Treasure Slots comes with a free spins bonus round, as well as the golden coin feature. In the golden coin feature, where you stand to win a major jackpot or two minor jackpots.



Enjoying Virtual Table Games
Table games are one of the biggest drawing factors at standard casinos because they're highly interactive, they have real dealers to talk with and to bet against and there are other players sitting around to enhance the mood. That doesn't mean that the games can't be enjoyed online though. Online table games offer the same features, faster gameplay and the same exact game that so many players enjoy in standard casinos, without many of the downsides. At Uptown Aces players can enjoy games like Keno, Blackjack, roulette, draw poker, stud poker and more. Each of the games is designed to operate smoothly and to offer a similar gameplay experience to the real thing at the casino.
Instant Play Fun
Each and every one of the games offered at Uptown Aces is an instant play game. That means that gamblers can get started instantly and don't have to go through a download process before gambling. Each of the games will load in a standard web browser, and they will play without any special steps at all. That's a huge benefit compared to playing at casinos that require a software download. It's easy to enjoy the games without being stuck to any one platform while gambling at Uptown Aces. Instead players can switch from one computer to another, or even between computers and mobile devices while playing the same exact games. With such a wide variety of games to pick and choose from, it's no wonder that gamblers are happy playing at Uptown Aces over the long term. There's always something new to try out, and all the games are available immediately.